There are a few errors specific to the Hybrid Exchange Management process. This article will give you the exact error message, its cause, and its resolution, along with any other notes or resources that might be useful.
Error: Verify Destination Admin Credentials
Error Text
Please verify the destination admin credentials and refresh.
Cause
If you are seeing this error, that means that we are having trouble connecting to the Destination with your admin credentials.
Resolution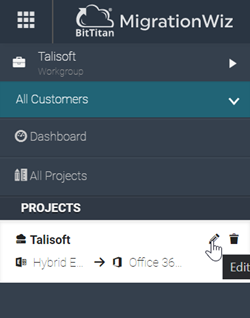 To update your admin credentials, go to your Hybrid project. On the left-hand side bar click on the pencil icon next to your project.
Next, click the Destination Settings.
Click Edit endpoint.
Re-enter in your Administrator Email Address and click on the pencil icon to re-enter your password.
While you are on the destination settings, double check that the Target Delivery Domain is your on.microsoft.com domain name. (See screenshot below for reference.)
Click Update.
Your credentials will not be automatically updated, the next time you Start a Sync on any batch, click Refresh and the system will validate your credentials.