DeploymentPro is a cloud-based solution that allows you to manage the configuration of Outlook for Office 365 on end-user desktops directly from your web browser. Our solution eliminates the need for you to visit every desktop physically and remote sessions with employees. DeploymentPro currently only supports Microsoft 365 as the Destination.
Installing DMA using GPO
GPO can push DMA (Device Management Agent) exe into the end user's computer in bulk and it does not require any steps to do from the end user to install DMA by themselves. 
If the end user system is up and running so they will not get any response or prompt about the DMA (Device Management Agent) installation. The Admin will be notified in the portal.
If your AD is not set up properly or if you have any previous issues with your AD then you will not be able to use GPO.

In circumstances where a client-to-site VPN does not exist to process/update Group Policy Object (GPO) changes, you cannot install DMA via GPO.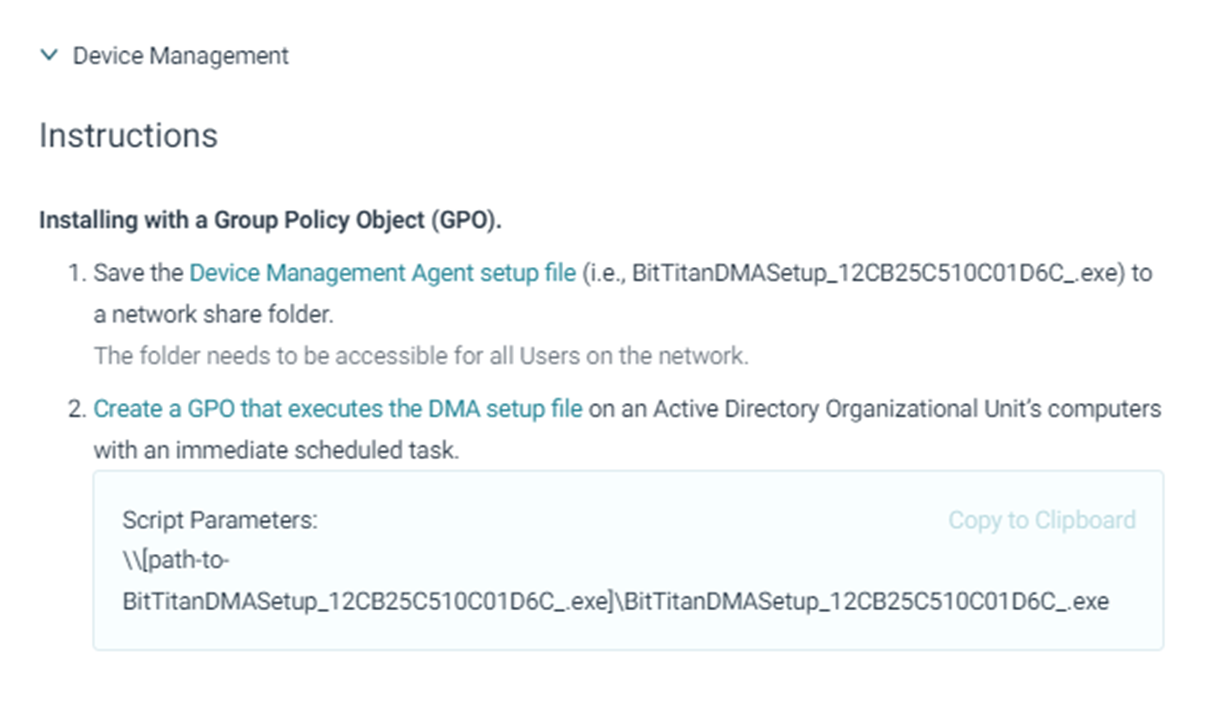 Installing DMA using Email
You can send the DMA (Device Management Agent) exe setup file to the end user by sending them to download link in their email. In this process end user needs to perform the download and installation of DMA by themselves.
The end-user will receive an email which will contain a download link.  It is important that the user uses only the link sent specifically to them since it is user-specific.  If the link is shared with another user it will cause issues and will require that DMA be uninstalled and re-installed in order to function correctly.
Admin can check the DMA status from the MSPComplete portal.
After DMA installation, when the cutover will be scheduled from the portal, the user will be able to see the popup to configure Outlook.
As an alternate solution, you can also download the generic installation file as mentioned in the installing via GPO section and you can send the users a link to that file in order to have them install it themselves.  This would not require links specific to the user and would allow you to send the email from a trusted source in order to ensure that users see it and click on the link.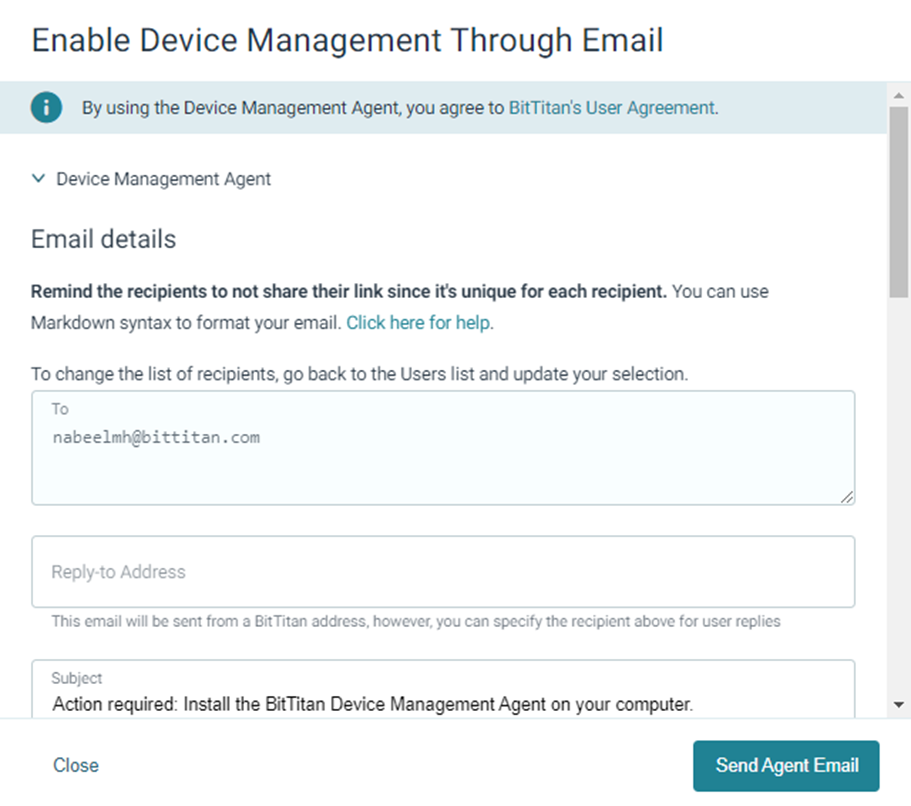 Installing DMA using SCCM
System Center Configuration Manager or SCCM is a deployment tool which can control and distribute software to desktops, servers, laptops and mobiles over a vast network. SCCM will help installing DMA on target location. SCCM is a popular deployment tool among enterprises, not only because it has a user-friendly interface, but also because deploy software with SCCM is quite easy.
After setting up SCCM, Create application for DMA exe to deploy.
Create User collection to setup and rules for deployment.
Authorize to cmputers and control DMA file. From the Deployment Settings, set the Action to install. 
Do not check the box named "Require administrator approval if users request this application."
Right click on DMA file in Application section and click on 'Deploy'.
To finish the task, click on "Next". The DMA is now deployed to the end user.
Click on close to exit the program. You can check the details of deployment on the deployment completion page.
DMA will get installed in users computer.
Schedule the Cutover
Schedule DeploymentPro from the portal, you can set the date and time for the popup on the end user's screen to configure Outlook. 
It could take more than 30 minutes to communicate with the user's machine.
Date Picker says Schedule Now, it still can take until the next heartbeat (90 minutes) to have the client Pop Up.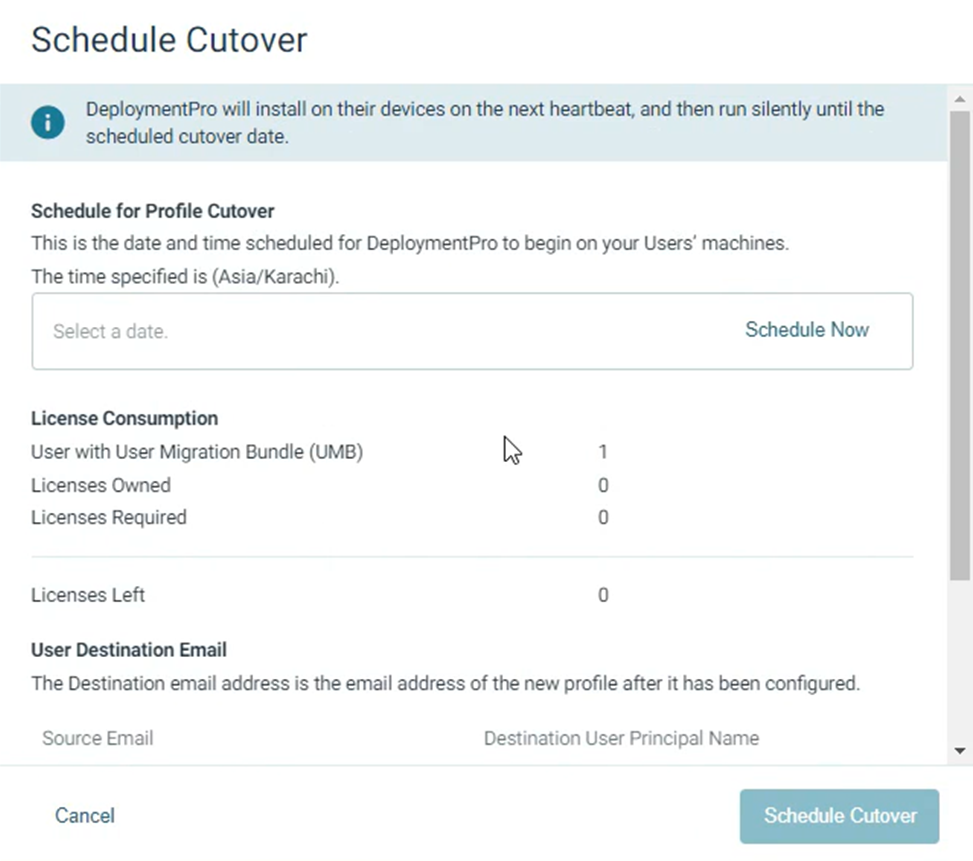 Testing
You can check the status of Deployment Pro by flipping the user's profile. This will catch conflicting GPO, URL Blocking, port filtering, Anti-virus, and other issues.
You will not have time to fix the issues if they occur during the profile creation.
If you need to revert back and start all from the beginning you can check our Deployment Pro step-by-step guide from our help center. Revert a DeploymentPro configuration of Outlook
Wait for the Cut-Over
The cutover can be rescheduled anytime up to 30 minutes before the currently set date and time.
If you wait until the cutover time to schedule then you have up to an hour to wait for the machine to check-in.
Important Notes
In order to grant BitTitan Device Management Agent (DMA) connectivity, all services, firewalls, proxies, and antivirus software must be configured to allow access to the following URLs:

443 and 80 need to be open.
These IPs should be whitelisted. (74.121.187.128/25 and 216.176.189.162/32)