Request Premium Phone Support Our customers are important to us. We offer 24/7 email support, as well as Premium Phone Support, a robust Knowledge Base, and community forums. Our support engineers are experienced with our products and are the front line in addressing bugs and errors.
Each support ticket is scoped to a single issue. This enables us to quickly and thoroughly respond to all issues without one issue getting lost in a more complex discussion or fix. It also helps our engineers track, support, and address issues that you might encounter.
We are always working to improve our support and resolution systems. If you have any questions or concerns, please let us know.
Support Options
In addition to browsing the Help Center and Community site to find answers to your questions, product support is available via email and Premium Phone Support. Before submitting a support request, check the system status page to determine if there are known system issues that might be impacting your project.
All support requests are scoped to a single issue or error. Additional errors or issues will require a new support request. This is to prevent any miscommunication, keep all troubleshooting in a single ticket for accurate resolution and to help improve our products with accurate reporting.
Note: Before using the options below to get assistance, it is recommended that you be signed into your BitTitan account to prevent a later sign-in from interrupting the support request process.
Request Assistance
This process will walk you through our Guided Assistance program and show you how to open a ticket with us. For Premium Phone Support, please scroll to the bottom of the page. (Or go straight to Submit a Ticket.)
To start your support request process, navigate to the main Help Center page and click on Contact Support (the ambulance) in the bottom right:
This will bring you to a product menu. This helps us understand what issue you might be experiencing so that we can suggest some common fixes or resources.
Select which product you would like help with, or click on Open Tickets to view or update previously opened tickets.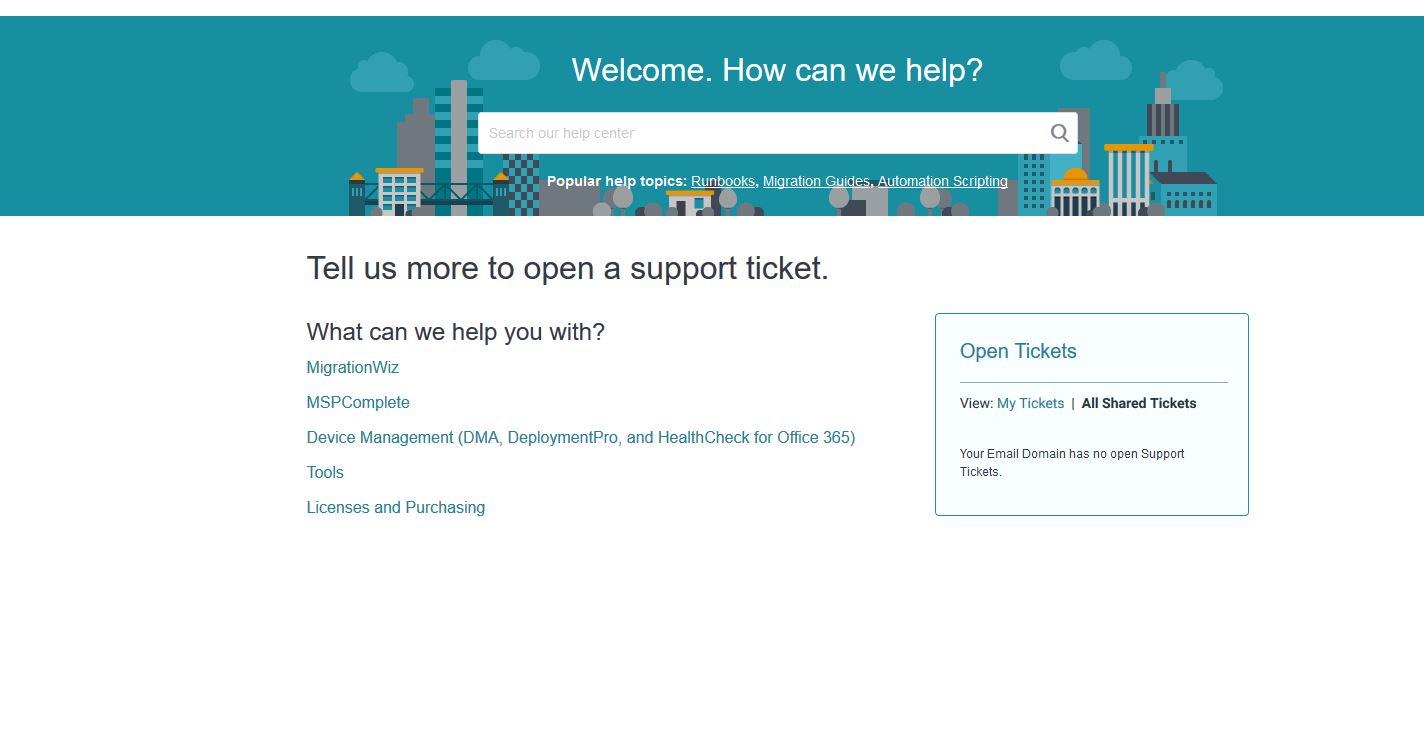 The Guided Assistance program will walk you through a few more options. This narrows down the issue you might be having so that we can suggest the most useful articles.
Continue selecting appropriate options in each of the next couple of steps.
Once you've chosen the product, migration type, and topic, you will be presented with a list of Suggested Articles, or notified if there aren't any suggested articles. You will also be offered, at each step of the process, the option to change any of your chosen options.
At this point, you will be offered the option of opening a new ticket. Please fill out the ticket as thoroughly as possible so we can help you quickly. Our support agents will triage the ticket and reach out to you to begin your support process. Email support is available 24 hours a day, 7 days a week.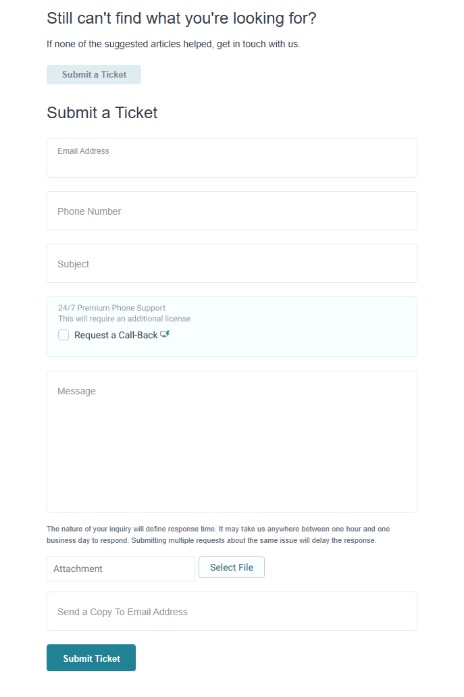 Fill in each field in the ticket form. Attach any screenshots, log files, or other attachments using the Attachment field. For missing items, include a screenshot of the items at the Source and the expected location on the Destination.
Note: If you have more than one attachment, it is recommended to include all the attachments together inside a zip file, then attach the zip file.
In the Message box include these specifics:
A full, detailed summary of the issue, any error messages, and the user experience ("Need urgent help" and "Call ASAP" don't give our engineers enough information to work off of.)
A list of the troubleshooting steps performed so far
The name of the project or activation code
The mailbox(es) impacted
Your Name
The best time for contact
Your time zone
Response times vary, based on the volume of requests, as well as the complexity of the issues that require investigation. Our Service Level Agreement (SLA) response time for normal priority support requests is 24 hours from the time the request is received by our system.
Note: Support is available in English and Japanese.
Request Premium Phone Support
If you have a critical incident that requires direct access to Support Engineers, you can buy one or more Premium Phone Support licenses. ​​​A Premium Phone Support license will guarantee that Support Engineers will call you back within two hours from the time the request is received by our system. They will work with you until the problem has been resolved.
Follow these steps to purchase Premium Phone Support licenses:
Select Purchase from the top right menu of MSPComplete or MigrationWiz.
In the Services section of the bottom of the page, select Premium Support Single Incident or Premium Support Five-Incident Pack to access the Purchase Support Escalation licenses form.
Select the number of licenses and click Buy Now to fill out the billing information.
Once purchased, your Premium Phone Support license(s) will appear in the 24/7 Premium Phone Support field of the Contact Support form.
Follow these steps to use your purchased Premium Phone Support license:
Go through the Guided Assistance form as described above. You may find the answer to your question without needing to use the Premium Support license.
If none of the presented articles answer your question, click the Submit a Ticket button to access the support form.
On the support form, in the 24/7 Premium Phone Support field, select the checkbox Request a Call-Back.

Your purchased Premium Phone Support license(s) will appear to the right. Selecting the checkbox will consume a Premium Support Ticket license and convert the support ticket to a Premium ticket.
Note: Premium Phone Support is only available in English.